Welcome to the Rathdowne Cellars Online Store.

Fill in some details below to search our extensive range. Please note that not all our products are available online (we're working on it though) so please contact us if we don't have what you're after.
We suggest using only one or two search options to begin with to maximise your search results.

View all Specials


Billecart Salmon Brut Reserve NV
Of the Grande Marque houses Billecart has definitely been a store fav for a long time. Making a mid-weight, clean style of Champagne that has started many a party, dinner or celebration.




Bodegas Shaya Arindo Verdejo 2014
This wines is made from 100% old vine Verdejo, planted in the southeastern area of the province of Segovia. It is made by Belinda Thomson, winemaker from Crawford River in Victoria.
Juicy and ripe with crisp pineapple, pear, and apple flavors. Strikes a great balance between crisp, lively acidity, juicy texture and enjoyable ripe fruit flavors. A must try for Sauvignon Blanc fans who want to try something new.


Bortoluzzi Pinot Grigio IGT 2015
100% Pinot Grigio taken from a selection of five vineyards within Collio and Isonzo, all from very low crop yields (about 2/3 the permitted DOC limit). Hand harvested, soft pressed, with only the free run juice is vinified. Fermented in temperature controlled stainless steel tanks before bottling.
Always a complex wine, it exudes lush floral fruit and is both mellow and fresh at the same time with notes of spring flowers, and considerable weight and style.
Country: Italy

$28.00
each
WAS $32.00
$25.00
ea per case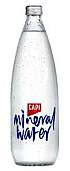 Capi Mineral Water 750ml - Case (12)
Case of 12 x 750ml bottles.
After rising 250m to the surface through mineralised rock, Capi Sparkling Mineral Water is bottled at the source in Lauriston in the Victorian Highlands. Naturally carbonated, it's light sparkling mineral water at its best.
Country: Australia



Castro Martin Albarino 'Sobre Lias' 2016
The delightful Angela Martin and her husband, Andrew McCarthy, run the Castro Martin estate in Rias Baixas, on Spain's Galician coast, where production of Albarino at their bodega can be traced back to as far as 1887. Angela and Andrew have always worked ahead of the curve, creating beautiful expressive wines some five years before Rias Baixas even became a protected geographical region.
A distinct salty minerality on the nose, accompanied by an array of pure, clean, white fruit aromas. … more
Country: Spain
Region: Rias Baixas

$35.00
each
WAS $38.00
$32.00
ea per case


Chestnut Hill Sauvignon Blanc 2013
This is not your average sauvignon blanc - it's made in a Sancerre style, which is much more interesting and complex with a wonderful texture!

$160.00
each
WAS $175.00
$149.00
ea per case




Chrismont La Zona Prosecco NV
"It's grown at about 300 metres above sea level on vines that are now nearly ten years old. It now comes in a proprietary 'King Valley' prosecco bottle, which is lovely to see - a real sign of confidence/harmony for the region. Reckon they are bang on with this release. It's fine and crisp but not at all lacking in flavour. Red apples galore. Some bready complexity. More than an ounce of finesse. More-ish lisp of fruit sweetness. Tick tick … more
Country: Australia
Region: King Valley

$20.00
each
WAS $23.00
$18.00
ea per case