Welcome to the Rathdowne Cellars Online Store.

Fill in some details below to search our extensive range. Please note that not all our products are available online (we're working on it though) so please contact us if we don't have what you're after.
We suggest using only one or two search options to begin with to maximise your search results.

View all Specials
NEW. Check our our "Stay At Home" wines packs. Easy-peasy wine selection.


Anduma Langhe Nebbiolo 2018
The ANDUMA! range is an introduction to Piedmont; a vibrant viticultural region in the northwest of Italy that boasts some of the country's best wines. In conjunction with a traditional family operation, we have bottled three typical wines of the area. The Dolcetto and the Langhe Nebbiolo are both unoaked, precise and definitive of their variety. Anduma! Barbaresco DOCG is fruit forward and utterly delicious, with classic faded red flowers and a suitably structured tannin profile.
'Lively and bright expression … more
$30.00
each
WAS $33.00
$28.00
as part of a mixed case(6)


Antidoto Le Hormiga de Antidoto Tinto Fino 2012
The nose is vibrant and silty with an almost electric red earthiness through pruney-old vineheartwood
with fine spice. The mouth ripples with subtle tension. Oak adds, curiously and delightfully, an abstract sour undercurrent, giving tuck and tug to the fleshy ripe tannin depth, and there's a pure, fresh earthiness. It'seffortless in the mouth, deep and flowing despite the low cropped old vines' natural intensity and impact.
Country: Spain
Region: Ribera del Duero



Antonio Pinot Grigio 2018
"'Antonio' Pinot Grigio is a from famed Soave producer Antonio Fattori. The brief - to take parcels of Soave-zone Pinot Grigio to craft a racy dry white wine with all the hallmarks of Venezie IGT PG (as of 2017 to be labelled as DOC); body, texture and complexity, purity expressed through clear lines of structure and tingling acidity. The herbal and grassy elements are subdued, the icy pear and melon a little more pronounced. The texture is creamy and mouthfeel … more
$20.00
each
WAS $25.00
$18.00
as part of a mixed case(6)


Artadi Rioja Valdegines 2011
"A firm wine with wonderful silky tannins and a sexy austerity. Chalk and dark berry too. Full-bodied and reserved. Very long. Beautiful intensity and length. Tension as well. From east facing single vineyard Laguardia at 650 meters. Drink or hold." 94 James Suckling - Jamessuckling.com
Country: Spain
Region: Rioja
Sub Region: Rioja Alavesa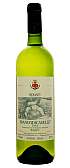 Benanti Carricante Etna Bianco DOC 2017
100% Carricante from 900-1000m up Mt Etna, grown in bush vine.
Fine texture, complex elegant and well balanced.



Billecart Salmon Brut Reserve NV
Of the Grande Marque houses Billecart has definitely been a store fav for a long time. Making a mid-weight, clean style of Champagne that has started many a party, dinner or celebration.
$85.00
each
WAS $95.00
$79.00
as part of a mixed case(6)


Bouchard Bourgogne La Vignee Bourgogne Rouge 2018
Elegant small fruit flavours. A pleasantly balanced wine which reveals a harmonious blend of fruit and terroir. To enjoy young for its freshness, can age 3-4 years to develop more mature pinot noir notes.
Country: France
Region: Burgundy
Sub Region: Bourgogne Rouge


Bouchard Bourgogne La Vignee Chardonnay 2018
"4 Stars and Best Value White...
reminded us how quality extends throughout the Bouchard Père et Fils whites. 'Clean-cut, with slight herbaceousness,' thought Dunne, 'but well-balanced and vibrant, with hints of gunflint and well-balanced flavour and acidity.' I liked its delicate stone fruits, distinct texture, yet poised balance and line." - Nick Bulleid MW, Gourmet Traveller Wine - Oct 2019
Country: France
Region: Burgundy
Sub Region: Bourgogne Blanc


Brezza Dolcetto d'Alba 2019
Dolcetto the name comes from the local dialect "Ducet" (small hill) because normally it was cultivated in the lower part of the hill where the slopes are gentler.
The soil of this vineyard in Barolo is soft and sandy. The wines originate they have always a very elegant perfume, fruit and good complexity. Even in wet years in this vineyard it always manages to have good quality grapes, due to the high percentage of sand and good drainage in the … more
$30.00
each
WAS $39.00
$27.00
as part of a mixed case(6)