Welcome to the Rathdowne Cellars Online Store.

Fill in some details below to search our extensive range. Please note that not all our products are available online (we're working on it though) so please contact us if we don't have what you're after.
We suggest using only one or two search options to begin with to maximise your search results.

View all Specials
NEW. Check our our "Stay At Home" wines packs. Easy-peasy wine selection.


Albino Rocca Barbaresco Ronchi 2016
This wine comes from a south facing, single vineyard in a cru called Montersino. All of the Rocca's three Barbaresco wines are single cru wines. This could be released under the single cru name - Montersino - and one day it surely will be. For the moment the Roccas name it simply with the vintage: Duemilasette. The altitude here is 310 metres and the soil a mix of clay and limestone. It's 100% Nebbiolo of course, from an outstanding vintage, … more
Country: Italy
Region: Piedmont
Sub Region: Barbaresco

$125.00
each
$115.00
in a mixed case (6 per case)

$38.00
each
$34.00
in a mixed case (6 per case)


Anduma Langhe Nebbiolo 2018
The ANDUMA! range is an introduction to Piedmont; a vibrant viticultural region in the northwest of Italy that boasts some of the country's best wines. In conjunction with a traditional family operation, we have bottled three typical wines of the area. The Dolcetto and the Langhe Nebbiolo are both unoaked, precise and definitive of their variety. Anduma! Barbaresco DOCG is fruit forward and utterly delicious, with classic faded red flowers and a suitably structured tannin profile.
$30.00
each
WAS $33.00
$28.00
as part of a mixed case(6)


Antica Torino Vermouth di Torino
Antica Torino is a partnership and project of passion between Vittorio Zoppi and Umbrian wine maker Filippo Antonelli. Rather than seeking out the exotic, often imported botanicals that go into more modern styled vermouth, Antica Torino takes a page out of the history books, a time when vermouth was created utilizing what was readily available locally. The decision was made to produce a vermouth that was "of the garden", packed with fresh rosemary, bay laurel, thyme, oregano, wormwood, gentian, rhubarb, … more


Azelia Langhe Nebbiolo 2018
It's a poignant reminder that wines labelled Langhe Nebbiolo from within the Barolo communes can produce truly stunning reds that seem better that many lesser Barolos from less careful producers.
This one has so much classic Nebbiolo perfume on the bouquet that it's heady and inviting, a vinous and alluring siren. Notes of ripe raspberry compote, raisins, rust and iodine, strawberries and dried herbs float from the wine. The palate is a riot of flavour with sweet fruit, but the … more
$55.00
each
$50.00
in a mixed case (6 per case)


Azienda Agricola Giovanni Sordo Barbaresco 2016
Already nominated as a likely legendary year for Barbaresco, and this does as expected. The three comunes do their bit; Barbaresco provides vivid red fruits, Treiso the flesh and plump, and Neive that tightening element, a core of darker fruits and disciplining structure. Perfect testimony to a great vintage. Similar vinification to the Nebb, with a few months more in the large botte.
Country: Italy
Region: Piedmont
Sub Region: Barbaresco

$105.00
each
$95.00
in a mixed case (6 per case)


Azienda Agricola Giovanni Sordo Barolo Gabutti 2015 Magnum
No chance to mistake this, with its abundance of darker things; stock, porcini, graphite, smoke and black cherry. Under this very typical Serralunga 'tarry/earthy' mantle though, are other complexities of dried roses, orange and spices. The firm and enlivening structure of a great Serralunga is here to underpin all this. Strong black tea tannins at present. All components are here.
$320.00
each
$290.00
in a mixed case (6 per case)

Azienda Agricola Giovanni Sordo Barolo Gabutti 2016
Ripe red fruit, cherry, tea and liquorice. So deep and resonant, thick in flavour, earthy spicy and rolling with black tea tannin, opulent on the finish. Pow. This is it. 97 points, Gary Walsh, The Wine Front - February 2020
$130.00
each
$117.00
in a mixed case (6 per case)

Azienda Agricola Giovanni Sordo Barolo Gabutti Riserva 2008
$180.00
each
$162.00
in a mixed case (6 per case)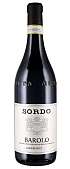 Azienda Agricola Giovanni Sordo Barolo Monprivato 2013
'Mid ruby with broad orange rim. The typical fruit-driven Sordo approach, but with a mineral streak on the nose. Almost a little tarry on the palate. Signature Sordo intensity of fruit on the palate. Much richer style compared with Giuseppe Mascarello. Richly tannic too.'
Walter Speller, jancisrobinson.com, 16.5+ points
$270.00
each
$245.00
in a mixed case (6 per case)