Welcome to the Rathdowne Cellars Online Store.

Fill in some details below to search our extensive range. Please note that not all our products are available online (we're working on it though) so please contact us if we don't have what you're after.
We suggest using only one or two search options to begin with to maximise your search results.

View all Specials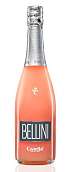 Canella Bellini Cocktail 750ml
The Bellini cocktail is composed of two parts sparkling wine, one part white peach juice and pulp from select, perfectly ripe peaches and a few drops of wild raspberry. Its natural ingredients are grown in the Venetian countryside; the delicate white peaches are handpicked when fruit is perfectly ripe, so as to maximize concentration of sugar and aromas.
A classic aperitif, its inebriating peach fragrance is best enjoyed quite cool, even slightly chilled. Ideally, do not store the bottle too long, in order to enjoy its peachy freshness to the full.
$25.00
each
$22.50
in a mixed case (6 per case)