Welcome to the Rathdowne Cellars Online Store.

Fill in some details below to search our extensive range. Please note that not all our products are available online (we're working on it though) so please contact us if we don't have what you're after.
We suggest using only one or two search options to begin with to maximise your search results.

View all Specials
NEW. Check our our "Stay At Home" wines packs. Easy-peasy wine selection.


Antonio Pinot Grigio 2018
"'Antonio' Pinot Grigio is a from famed Soave producer Antonio Fattori. The brief - to take parcels of Soave-zone Pinot Grigio to craft a racy dry white wine with all the hallmarks of Venezie IGT PG (as of 2017 to be labelled as DOC); body, texture and complexity, purity expressed through clear lines of structure and tingling acidity. The herbal and grassy elements are subdued, the icy pear and melon a little more pronounced. The texture is creamy and mouthfeel … more
$20.00
each
WAS $25.00
$18.00
as part of a mixed case(6)

Ca' dei Zago Prosecco 'Col Fundo' DOCG 2017
Christian makes prosecco the way his grandfather did, col fondo - meaning it is bottled with some fine lees and the result is a slightly cloudy, crunchy and crisp wine that is a world away from industrial prosecco. The steep hills of Valdobbiadene are tough on a vignaiolo. Farming is exclusively by hand and the glera grapes are fermented plot by plot, using natural yeasts with no temperature control. The wine remains on its lees until Spring and then when … more
$45.00
each
$40.50
in a mixed case (6 per case)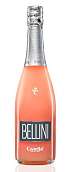 Canella Bellini Cocktail 750ml
The Bellini cocktail is composed of two parts sparkling wine, one part white peach juice and pulp from select, perfectly ripe peaches and a few drops of wild raspberry. Its natural ingredients are grown in the Venetian countryside; the delicate white peaches are handpicked when fruit is perfectly ripe, so as to maximize concentration of sugar and aromas.
A classic aperitif, its inebriating peach fragrance is best enjoyed quite cool, even slightly chilled. Ideally, do not store the bottle too … more
$25.00
each
$22.50
in a mixed case (6 per case)


Canella Prosecco Superiore di Conegliano Valdobbiadene DOCG 2016 200ml
Canella Prosecco in screwcap 200ml bottles complete with little DOCG tag and all. Forget the cider, this is the go for summer!


Canella Prosecco Superiore di Conegliano Valdobbiadene DOCG 2018
Canella is the estate of the Canella family, established in 1947 by Lorenzo Senior and now run by Lorenzo Junior, Alessandra, Nicoletta and Monica. The Canella vineyards are in the appellation's historical nucleus, Conegliano (where the wines are usually softer and fruitier than those from the higher slopes to the west around Valdobbiadene).
100% Prosecco varietal, the wine is a brilliant straw yellow with fine, persistent perlage and fruity aromas of peach, apple, pear and citrus fruit. The palate gracefully … more
$30.00
each
$27.00
in a mixed case (6 per case)


Cantine Pra Soave Classico 2018
The wine has an attractive lemon colour and a bouquet bursting with notes of flowers and crisp fruit. Aromas of hawthorn and jasmine are particularly prominent, as are exotic yellow and white fruits such as peach and apricots. On the palate, the wine is medium bodied and flavoursome, full of fruit, with clear mineral notes. The wine is easy drinking and has an aftertaste of hazelnuts and nutshells.
$29.00
each
$26.00
in a mixed case (6 per case)


Masi Amarone Classico Costasera DOCG 2012
94 Points. James Suckling 2017
Amarone in the product of the ancient wine-making method called "appassimento" (drying of the grapes). At the end of September to the beginning of October, the best clusters of grapes from the hillside vineyards are picked and placed on bamboo racks. The grapes are then left to dry for 48 hours in rooms with controlled atmospheres (controlled humidity and forced ventilation) and then in large rooms in the old farmhouses in the hills until about … more
$120.00
each
$108.00
in a mixed case (6 per case)

$30.00
each
$27.00
in a mixed case (6 per case)


Monte Roncá 'Colle Marianna' Trebbiano di Soave 2018
A perfect wine for summer afternoons, particularly alongside fresh seafood, salty cheeses and pastas. The nose recalls ripe pears, lime zest and red apple, with a touch of fresh parsley. The palate is rounded and soft, with brisk acidity that makes it a versatile and refreshing drop.

$98.00
each
$89.00
in a mixed case (6 per case)