Welcome to the Rathdowne Cellars Online Store.

Fill in some details below to search our extensive range. Please note that not all our products are available online (we're working on it though) so please contact us if we don't have what you're after.
We suggest using only one or two search options to begin with to maximise your search results.

View all Specials
NEW. Check our our "Stay At Home" wines packs. Easy-peasy wine selection.




Yves Cuilleron Cote-Rotie Bassenon 2014 375ml
An elegant bouquet that mixes Syrah's red berry fruits with Viognier's floral character (violets). Elegant, fresh and airy on the palate. Subtle yet prominent tannins.
Country: France
Region: Rhone Valley
Sub Region: Cote-Rotie


Yves Cuilleron Cote-Rotie Madinere 2014 375ml
A pleasant, moreish nose of dark fruits, roasted notes and menthol to finish. On the palate, harmonious and juicy. Fresh, sprightly finish. Subtle, silky tannins.
Country: France
Region: Rhone Valley
Sub Region: Cote-Rotie



$85.00
each
$77.00
in a mixed case (6 per case)

$160.00
each
$144.00
in a mixed case (6 per case)


Domaine Jamet Côte Rôtie 2016 375ml
'Tasted, as usual, in components. #1) Les Lezards: bright red fruit, flowers and spices; seamless texture and a zesty mineral overtone that builds with air. #2) Gerine: smoke-accented blue fruits and plush texture; round and weighty with a jolt of pepper adding back-end spiciness and cut. #3) Fontgeant: hugely aromatic, showing intense, mineral-driven medicinal cherry and floral character, a hint of olive and strong back-end thrust. #4) Côte Baudin and Moutonne: deep and rich, showing powerful black and blue fruit … more
Country: France
Region: Rhone Valley
Sub Region: Cote-Rotie

$165.00
each
$150.00
in a mixed case (6 per case)


$210.00
each
$190.00
in a mixed case (6 per case)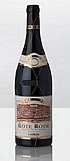 $490.00
each
$450.00
in a mixed case (6 per case)