Welcome to the Rathdowne Cellars Online Store.

Fill in some details below to search our extensive range. Please note that not all our products are available online (we're working on it though) so please contact us if we don't have what you're after.
We suggest using only one or two search options to begin with to maximise your search results.

View all Specials
Should you encounter any difficulties, please contact us by phone or email and we'll be ahppy to assist offline.


Syrahmi Demi Syrah 2018
Adam Foster is chef-turned-sommelier-turned-winemaker and seems to be really finding some glide to his stride. This is sourced from the Greenstone Vineyard in Heathcote, sees some whole bunch in the ferment and is sent to mostly older oak.
Great drinking here. Has glossiness to texture, a gossamer feel from satiny tannins, yet a strictness that cinches the wine in. It smells of red berries on briar, licorice, pepper and violets. It's sweetish to taste but an amaro herb-like character makes … more


$45.00
each
$40.50
in a mixed case (6 per case)


Syrahmi New Beginnings Heathcote Syrah 2016
Certified Organic
Notes from Syrahmi...
Each year I source and select grapes from a different single vineyard in the Heathcote region, therefore each year the wine will have a different name to reflect the vintage.
New Beginnings...''The journey of a thousand miles begins with a single step" - Lao Tzu
One door closes, another door opens! And what an exciting door it's become. After the sale of Greenstone in 2015, I was in the search of a new vineyard. After … more
$59.00
each
$53.00
in a mixed case (6 per case)


Tellurian Grenache Shiraz Mourvèdre 2018
Heathcote Wine Show 2019 - 4 Tropies..
TROPHY - Best Grown & Made in Heathcote
TROPHY - Best Single Vineyard Wine
TROPHY - Best Other Wine (non Shiraz)
TROPHY - Best Rhone Red
This is one of the few Grenache based wines you'll see out of Heathcote. Made by ex-Balgownie winemaker Tobias Ansted, it displays the characteristic finely grained structure we have come to expect from him.
Darker and more savoury than your typical Barossa GSM, with lovely spice aromatics.
$30.00
each
$27.00
in a mixed case (6 per case)


Tellurian Rosé 2019
Certified Organic Shiraz, Grenache, Nero d'avola and Mourvèdre.
Inspired by the light, dry, savoury roses from Provence, Tellurian Rosé combines grenache and shiraz for soft texture and light red fruit flavour, with mouvèrdre and nero d'avola for dry, fresh acidy and savoury influence.
$24.00
each
$21.60
in a mixed case (6 per case)


Tellurian Tranter Shiraz 2017
Tranter Shiraz is Tellurian's flagship wine, a tribute to a pioneering Australian, returned WWI soldier George Edwin Tranter who once owned our lands. First made in 2008, this medium to full-bodied shiraz showcases Heathcote's trademark minerality, depth of flavor and intensity.
The supple, medium-bodied wine delivers its message of purple and black fruits. Totally delicious, as much light to medium-bodied as medium-bodied, its length and aftertaste wholly impressive.


Vinea Marson Prosecco 2019
Pale straw in colour with slight green tinges, this sparkling has a very fine, refreshing bead of bubbles. It exhibits an aroma of bruised apple with a fine citrus backbone. Crisp acidity on the palate with lemon characters and a long finish all combine to make an altogether moreish Prosecco. Serve chilled.
Country: Australia
Producer: Vinea Marson
Region: Heathcote

$29.00
each
$27.00
in a mixed case (6 per case)


Vinea Marson Sangiovese 2015
The release of Vinea Marson's 2015 Sangiovese marks a return to 100% single vineyard fruit sourced from the twelve clones in their sotto & sopra estate vineyard. Deep garnet in colour, the Sangiovese possesses bright red fruit aromas of dark cherries and ripe raspberries alongside savoury notes of vanilla bean pod, nutmeg and dried herbs. On the palate a spectrum of cherries and cranberries show the potential of this distinctive food wine. Concluding with savoury tannins and a slightly bitter … more
Country: Australia
Producer: Vinea Marson
Region: Heathcote

$40.00
each
$36.00
in a mixed case (6 per case)


Vinea Marson Shiraz Viognier 2015
Winery Notes - "In recent years, Vinea Marson has participated in a series of Shiraz benchmarking tastings with other Heathcote wineries. What is most striking is the distinctive flavour profiles different parts of the region are developing, backed up by sensory and scientific profile evaluations in a recent Australian Wine Research Institute study. We've noticed that the eastern slope of the Mount Camel Range, where our estate vineyards sit, is typified by a distinctive red berry flavour and aroma profile. … more
$40.00
each
$36.00
in a mixed case (6 per case)


Wheeler Vino La Cavale Blanc 2018
Made from a blend of Riesling (2/3) from Bendigo and Chardonnay (1/3) from the Yarra Valley. Making for a very tasty white.
Barrel fermented in seasoned French oak, the La Cavale Blanc is a layered textural and energetic dry white that's highly versatile across many cuisines and is an all-round delicious no-nonsense drink.
Country: Australia
Region: Heathcote/Bendigo

$25.00
each
$23.00
in a mixed case (6 per case)


Whistling Eagle Eagles Blood Shiraz 2015
Impenetrable black as night colour with a very deep dark purple black hue. Heady aromatics of ripe blackberries, liquorice and dark chocolate intermix with vanillin cedar, black plum and spice. Bold, richly textured flavours of succulent blackberries, liquorice and black plum flavours hit the palate with tremendous force completely saturating the mouth. Underpinning the fruit is spicy vanillin oak, light earth and spicy pepper. Velvet smooth tannins have a lurking sturdiness to them. Outstanding concentration and power with a long … more
$60.00
each
$54.00
in a mixed case (6 per case)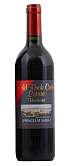 Wild Duck Creek Springflat Shiraz 2017
"The 2015 release theme would be 'restrained'.
The fruit for the Springflat comes from four sites; 60% of which comes from our northern vineyards, 40% from the south at Mia Mia. Dark crimson in colour - if one wine represents a snapshot of the whole vintage, this is it. There are delightful red fruit aromatics of raspberry and strawberries, along with some briary cigar box and undergrowth characters. The palate has a nervous energy of natural acids, with opulent red … more
$62.00
each
$56.00
in a mixed case (6 per case)


Wren Estate The Game's Afoot Shz 2017
The game's afoot shows characteristics of a cooler year with spice and herbal notes underlying juicy dark fruit on the palate. 10 months in older oak to soften the wine and to keep the fruit the focus.