Welcome to the Rathdowne Cellars Online Store.

Fill in some details below to search our extensive range. Please note that not all our products are available online (we're working on it though) so please contact us if we don't have what you're after.
We suggest using only one or two search options to begin with to maximise your search results.

View all Specials
Should you encounter any difficulties, please contact us by phone or email and we'll be ahppy to assist offline.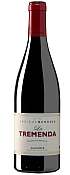 Enrique Mendoza 'La Tremenda' Monastrell 2017
A single vineyard expression from an organically farmed vineyard sitting at 600m above sea level, the vines are 30 years old and the finished wine is, simply put, bloody good. Concentrated black fruits with notes of rosemary and honey and an earthy rich character we could almost describe as tar, and yet somehow, despite this complexity of flavor the wine is still refined and elegant, soft on the palate with subtle, well integrated tannin.
Country: Spain
Producer: Telmo Rodriguez
Region: Alicante



Primitivo Quiles Moscatel 375ml
A Mistella, it's pressed must and fortifying spirit, leaving 200g/l of residual sugar. Really great as an aperitif/afternoon drink on ice, or with fruit and nut snacks. And a very good cheese wine, thanks to its excellent round, earthily-ripe acidity.
Fragrant, almost headily so fruity, fresh, floral with some nice wild exuberant earthiness. Smells of oranges,straw, billy tea and raisiny grapiness. Full-bodied, but not too sweet. Moscatel hedonism, and a bargain.
$20.00
each
$17.00
in a mixed case (6 per case)


Primitivo Quiles Vermouth 1Lt
A stellar and affordable vermouth from Alicante in Spain, made from the Monastrell (Mourvedre) grape. Senor Don Primitivo Quiles is one of the great figures of Spanish wine. His bodega in Monovar is the oldest in Alicante (since 1780), and probably in all the comunidad Valenciana. Although most known for making Fondillon, an aged, unfortified sherry styled wine, P. Quiles also makes wonderful red wines and this hard to find vermouth. Spice loaded, slightly sweet and heady and from one … more
$40.00
each
$36.00
in a mixed case (6 per case)