Welcome to the Rathdowne Cellars Online Store.

Fill in some details below to search our extensive range. Please note that not all our products are available online (we're working on it though) so please contact us if we don't have what you're after.
We suggest using only one or two search options to begin with to maximise your search results.

View all Specials

Adrien Camut Calvados Pays d'Auge 6 Year Old 41% 700ml
Since the 1800s, the Camut family has grown 115 acres of apple trees in the Pays d'Auge, the finest growing region for Calvados. In Normandy, 800 types of apples are grown; the Camut family grow about 25 of these, all of which are hand-harvested.
While pears are allowed in Calvados (actually mandatory in the Domfrontais region with a minimum of 30%), only apples grown on the Camut property are used in Camut Calvados. Cider is made from these apples and … more


Agrapart Blanc de Blancs 7 Crus 1er Cru Brut NV (2015 Base. Disgorged March 2018)
The name here refers to the seven Côte des Blancs villages from which it derives: Avize (younger vines, 20-40 years), Cramant, Oger, Oiry, Avenay-Val-d'Or, Bergères-les-Vertus and Mardeuil. Like all Agrapart wines, the fruit is 100% from vineyards that are estate-owned and farmed. 7 Crus is a blend of two different harvests; in this case 60% 2015 from Premier Cru vineyards and 40% 2014 from Grand Cru sites (this reserve wine is raised in neutral, 600-litre oak casks). The breakdown is … more
$120.00
each
$110.00
in a mixed case (6 per case)


Agrapart Grand Cru Complantée Extra Brut NV (2015 Base. Disgorged March 2018)
Disgorged March 2018. Complantée comes from a single parcel in Avize that Agrapart co-planted (complantée) with six varieties: Pinot Noir, Pinot Meunier and Chardonnay, as well as the "heirloom" Champagne varieties of Arbane, Petit Meslier and Pinot Blanc. The fruit for this release is based on the 2015 harvest (with 20% reserve wine from 2014). All the fruit was hand harvested together, co-fermented and barrel-aged before being put to bottle without filtration. The wine rested for just over two years … more
$200.00
each
$180.00
in a mixed case (6 per case)


Agrapart Terroirs Blanc de Blanc Grand Cru NV
"The NV Brut Blanc de Blancs Grand Cru Terroirs emerges from the glass effortlessly with layers of fruit. This is an especially large scaled, generous Terroirs that impresses for its sheer depth and body. Clean mineral notes frame the striking finish. This, too, is a breathtaking expression of pure Chardonnay fruit. The Terroirs is equal parts 2006 and 2007 juice from the Grand Cru villages of Avize, Oger, Cramant and Oiry. Disgorged July 2011. Anticipated maturity: 2011-2015.
I realize I … more
$115.00
each
$105.00
in a mixed case (6 per case)


Alain Brumont Chateau Bouscasse Madiran 2013
65% Tannat, 25% Cabernet Sauvignon and 10% Cabernet Franc yielding 45 hl/ha. Malo is done in barrel and the wine is bottled without filtration. An elegant expression of Madiran offering more body and depth than many Bordeaux at prices that reach well above the modest price for this wine. Fragrant with blackcurrants plum and spice. Wonderfully fresh on the palate with remarkably refined tannins.
$35.00
each
$32.00
in a mixed case (6 per case)


Alain Graillot Crozes-Hermitage Rouge 2016
The Domaine Alain Graillot has now been given two étoilés (stars) and become the highest rated Crozes Domaine in France's leading wine guide, Revue du Vin de France's Le Guide des Meilleurs Vins de France. Not that anyone truly needed this confirmation! It does however confirm the great work being done by Alain's sons, Maxime and Antoine, who are now their father's right and left arms. With an average vine age of 40+ years, the Graillot terroirs are now humming … more
Country: France
Region: Rhone Valley
Sub Region: Crozes-Hermitage

$70.00
each
$63.00
in a mixed case (6 per case)


André Bonhomme Viré-Clessé Vieilles Vignes 2016 Magnum
This cuvée is completely different because it's from vines that are between 70 to 95 years old on clay and limestone. All the wines are separated during winemaking before blending. So, for 12 months all the wines are in oak ranging from new (15 to 20%) to 8 years old. Then the family blends all the barrels in stainless tanks to spend a further nine months or more.
$119.00
each
$109.00
in a mixed case (6 per case)


André Clouet Cuvee Un Jour de 1911. Cuvee 74 (2014 Base). Disgorged October 2018
100% Pinot Noir from Clouet's best plots, dubbed by Jean-Francois Clouet "the golden square of Bouzy".
It is 50% current vintage fermented in old Sauternes barriques & 50% solera reserve wine - the estate's best reserve wines dating from 2001. The wine ages sur lie in bottle for a number of years before it receives a low 6-grams per liter dosage.
Cuvée 1911 commemorates the year riots broke out in the Champagne region as the local farmers rebelled against the … more
$140.00
each
$125.00
in a mixed case (6 per case)


André Clouet Grande Reserve Brut NV
100% Pinot Noir.
I just can't get enough of it - especially at this price. The Andre Clouet grande reserve brut is a delicious wine made from 100 per cent pinot noir with all the richness and definition that variety offers. There's plenty of fine bead, red fruits mingled with citrus, and earthy, warm spice (think star anise and cinnamon), zesty and dry on the finish. It builds on the palate and is quite voluptuous, almost full- bodied for champagne, … more
$70.00
each
$63.00
in a mixed case (6 per case)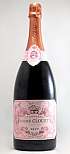 André Clouet Grande Réserve Rose NV Magnum
100% Bouzy and Ambonnay pinot noir; 2012 base vintage
Jean-Francois 'Clouet No 3' was inspired by Coco Chanel, the number introduced for the first time this year to denote the style, recognising that the colour is different each year, and with the number 3 representing a light, elegant aperitif style. Elegance and freshness are his goals for rose, avoiding what he describes as the 'full, rustic and heavy" styles of the past.
$200.00
each
$180.00
in a mixed case (6 per case)