Welcome to the Rathdowne Cellars Online Store.

Fill in some details below to search our extensive range. Please note that not all our products are available online (we're working on it though) so please contact us if we don't have what you're after.
We suggest using only one or two search options to begin with to maximise your search results.

View all Specials



Billecart Salmon Brut Reserve NV
Of the Grande Marque houses Billecart has definitely been a store fav for a long time. Making a mid-weight, clean style of Champagne that has started many a party, dinner or celebration.


Bindi Pyrette Shiraz 2013
Diam cork closure. Pyrette Heathcote Shiraz is sourced from an impeccably sited and managed vineyard near Colbinabbin on the Mount Camel Range. The specific parcel of vines this fruit comes from is at the highest block on deep red, rocky Cambrian soils on a cooler easterly facing slope. The picking date is carefully assessed in order to capture fruit vibrancy and freshness whilst also capturing the typical mouthfilling richness and length of the region. The wine is made in 1000 … more


Boroli Barolo DOCG 2010
The Borolis are a Piedmontese family who have been in business in the region - first in textiles, then editorial, and now in winegrowing - since 1831.
This wine is the typical red garnet color of a wine produced from Nebbiolo grapes. The bouquet is elegant with hints of red mature fruits, leather, tobacco and sensations of oak, while on the palate the powerful structure emerges with a long persistent finish. Great served with red meats or ripe-strong cheeses, and … more
$50.00
each
WAS $55.00
$45.00
ea per case


Bortoluzzi Pinot Grigio IGT 2014
100% Pinot Grigio taken from a selection of five vineyards within Collio and Isonzo, all from very low crop yields (about 2/3 the permitted DOC limit). Hand harvested, soft pressed, with only the free run juice is vinified. Fermented in temperature controlled stainless steel tanks before bottling.
Always a complex wine, it exudes lush floral fruit and is both mellow and fresh at the same time with notes of spring flowers, and considerable weight and style.
Country: Italy

$28.00
each
WAS $32.00
$25.00
ea per case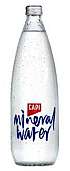 Capi Mineral Water 750ml - Case (12)
Case of 12 x 750ml bottles.
After rising 250m to the surface through mineralised rock, Capi Sparkling Mineral Water is bottled at the source in Lauriston in the Victorian Highlands. Naturally carbonated, it's light sparkling mineral water at its best.
Country: Australia



Chateau de Campuget 1753 Syrah 2013
Country: France


$160.00
each
WAS $175.00
$149.00
ea per case




Chrismont La Zona Prosecco NV
"It's grown at about 300 metres above sea level on vines that are now nearly ten years old. It now comes in a proprietary 'King Valley' prosecco bottle, which is lovely to see - a real sign of confidence/harmony for the region. Reckon they are bang on with this release. It's fine and crisp but not at all lacking in flavour. Red apples galore. Some bready complexity. More than an ounce of finesse. More-ish lisp of fruit sweetness. Tick tick … more
Country: Australia
Region: King Valley

$20.00
each
WAS $23.00
$18.00
ea per case